October 6-8, 2023
43 Years of Gathering!
Registration is now closed for 2023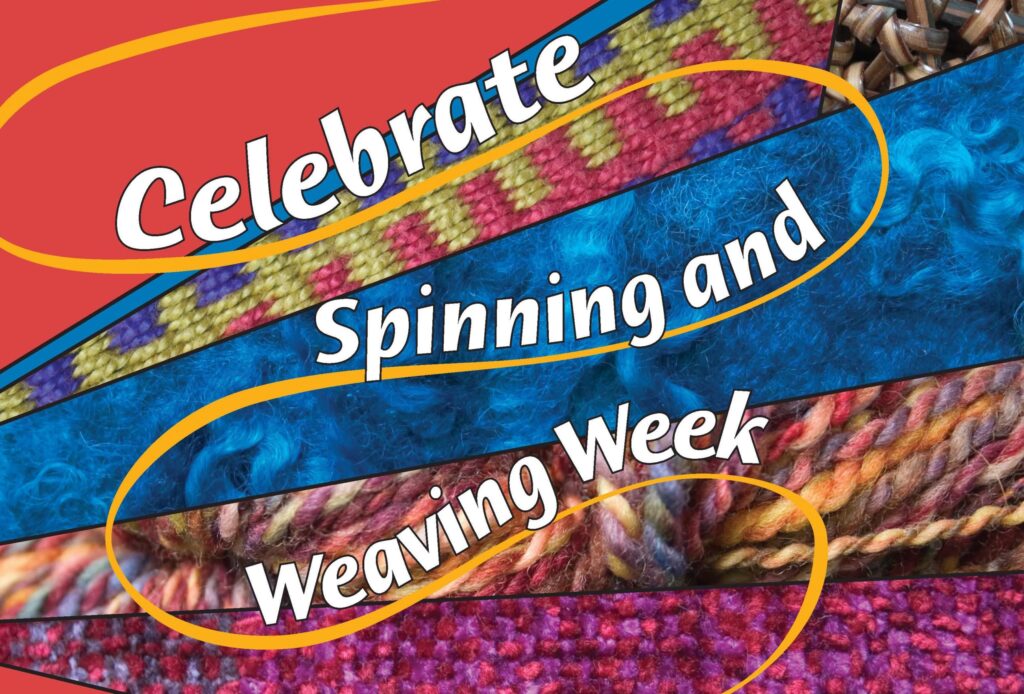 SPINNING AND WEAVING WEEK
The first week in October Spinning and Weaving Week spotlights creations made on looms, wheels, and spindles. It's a week in which practitioners of the ancient skill like to publicly demonstrate their creations.
Animals grow it, and you wear it, but what happens to get that garment from the animal to your closet? Spinning and Weaving Week aims to help people learn what it takes to turn different types of threads into fabric. It's of special interest for those who have preserved the ancient techniques of spinning and weaving. The skill knows no national boundary and has been practiced for thousands of years.
Weave Minnesota is a registration website in support of the Minnesota Federation of Weavers Guilds and Fiber Artists, aka "Federation", whose purpose is 'to encourage interaction between all Minnesota guilds to widen the scope of all and encourage education'. That was the original vision; today it is open to anyone who has an interest in fiber arts.
Federation is not a formal guild or organization in itself, it is an annual fall weekend retreat open to all fiber enthusiasts providing lodging, meals, keynote speaker, classes, and so much more! Nor is it limited to Minnesota; we have attendees from all over the U.S. and occasionally from outside the U.S.
Included in your weekend away is lodging with linens, all meals starting Friday evening meal through Sunday brunch, choice of two classes and lots of extras! Kicking it off with a Keynote Speaker and reception for inspiration, a Show and Share with 8 categories to display your works, a Style Show and door prizes throughout the weekend.
"Show and Share" was a big hit last year! Thanks for all who participated and what a showing of talent it was!! With multiple categories and no specific theme, there's lots of opportunity to show your wares, and of course, there are prizes! Please see the page titled "Show and Share" for all the categories to enter and details.
COVID PROTOCOL
WE ANTICIPATE OPERATING UNDER NORMAL CIRCUMSTANCES THIS YEAR. HOWEVER, WE RESERVE THE RIGHT TO UPDATE COVID PROTOCOL AS RECOMMENDED BY CDC AND THE FACILITY WE ARE ATTENDING.
Mt. Carmel
800 Mount Carmel Drive NE
Alexandria, MN 56308
There are multiple lodging options at Mt. Carmel. Please see Lodgings page, make your selection at registration and indicate your roommate names.
If you want to stay at Mt. Carmel Thursday night, they are charging $50.00/person. Please make your arrangements through them directly.
Lodging Descriptions:
New Cabins on the Lakeside Ridge. Remember the cute original cabins on the ridge by the lake? Most of them have been moved down to the west side of the Chapel. Newly built 2 bedroom "cabins" with a nice common area and small kitchenettes will be available for our use. These cabins can sleep 3, no upper bunk!
Cabin 21 is handicap accessible and can be a single occupancy with additional charge. It has 1 bedroom with queen bed and a queen hide-a-bed. Cabins 22-25 will accommodate 3 people NOT using the top bunk or a hide-a-bed. There is a top bunk and queen hide-a-bed in each cabin, so if you want to be a group, it is possible
Here are some pictures:
Alexandria, MN
Have some time to spend in between classes or just want to attend and enjoy some rest and relaxation? There's a lot to do around the Alexandria area and near Mt. Carmel. Biking, hiking, shopping, dining, or maybe some wine tasting, Alexandria area has lots to do and see.
Check out the Alexandria Chamber of Commerce for some local highlights: