Keynote Speaker
Becka Rahn
"Trailblazing an Art Business"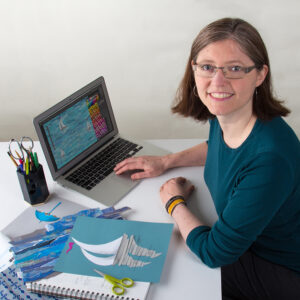 "Two roads diverged in a wood and I took the one less traveled by…" Becka talks about the secret power of saying YES, even when that unexplored path in front of you definitely has wolves and quicksand. She'll share her journey of creating a full-time art business from nothing, the essential skills you must have in your travel pack and the unforeseen dangers on the road. Learn about how she quit her day job and found out how amazing and difficult it is to be her own boss and blaze the trail. Finally, she'll share some tips for recognizing milestones on your path and finding some hiking companions along the way.

Becka Rahn is a full-time teaching artist who works in a micro-studio in Minneapolis. She creates art pieces in fabric and paper, specializing in surface designs using recycled and embroidered papers. She has received awards from the Jerome and McKnight Foundations and MN State Arts Board. She is passionate about helping artists conquer technology barriers to make their work more accessible.
Show and Share
"Show and Share" was a big hit last year! Thanks for all who participated and what a showing of talent it was!! With eight categories and no specific theme, there's lots of opportunity to show your wares, and of course, there are prizes!!
Entry items need to have been made within the last THREE years
You may enter 1 item in up to four (4) categories. Voters will choose one entry per category.
We hope everyone will bring something to show, and of course, there are prizes! Please attach a small card with a short description of your project. Below are all the categories to enter.
Hand-Crafted Yarn: Fine, bulky, art, dyed (your hand spun or blanks), any created yarn
Hand-Knit or Crocheted Garments: Sweaters, ponchos, capes, shawls, etc.
Hand-Knit or Crocheted accessories: Mittens, scarves, socks, bags, blankets, afghans, etc.
Woven Garments: Sweaters, ponchos, capes, shawls, etc.
Woven Accessories: Mittens, scarves, socks, bags, blankets, afghans, etc.
Woven, Knit, or Crocheted Household Items: Table runners, rugs, baskets, blankets, pillows, towels, etc.
Hand-Dyed Items: Material, clothing, etc. Must be fiber related
Art or Decorative Items: Felted, knit, crocheted, woven; any fiber medium or technique