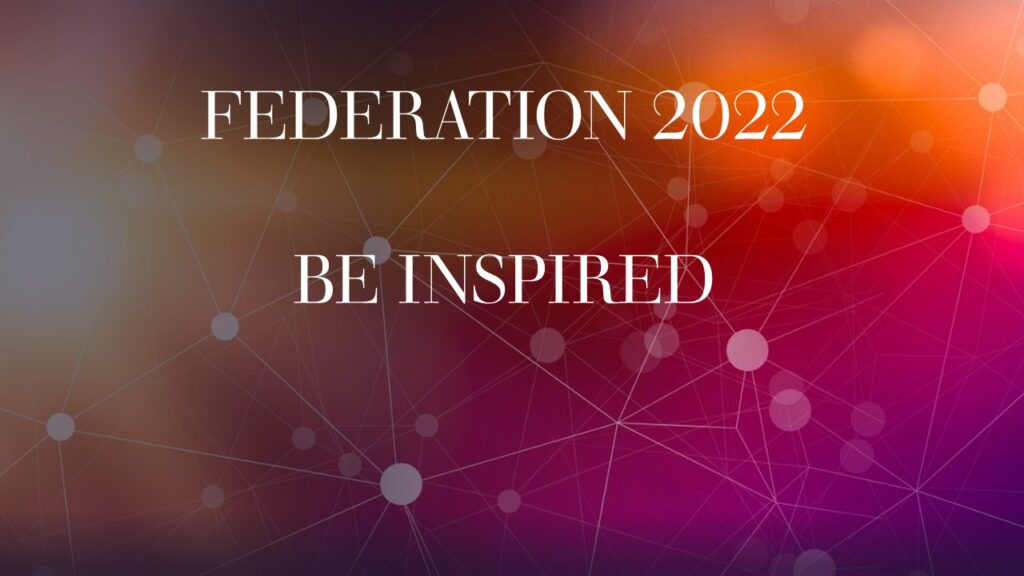 Two class periods are included in the cost of registration. A class period is one Friday afternoon, one Saturday morning, and one Saturday afternoon. If a class offered covers two periods, for example a Saturday morning and Saturday afternoon, that would be the allowed two class selections you can choose and cannot be separated. At registration, please note they are listed as Part 1 and Part 2; if you sign up for part 1, please sign up for part 2 and not another class.
Please make your selection at registration. REMEMBER, your class selection isn't guaranteed until payment is received.
Friday Afternoon
| | | | | |
| --- | --- | --- | --- | --- |
| Direct Warp a Rigid Heddle Loom (Part 1) | | | | |
| Bead Weaving | | | | |
| Triangle Loom Weaving | | | | |
| Needle Felted Gnomes | | | | |
| Start with a Spindle | | | | |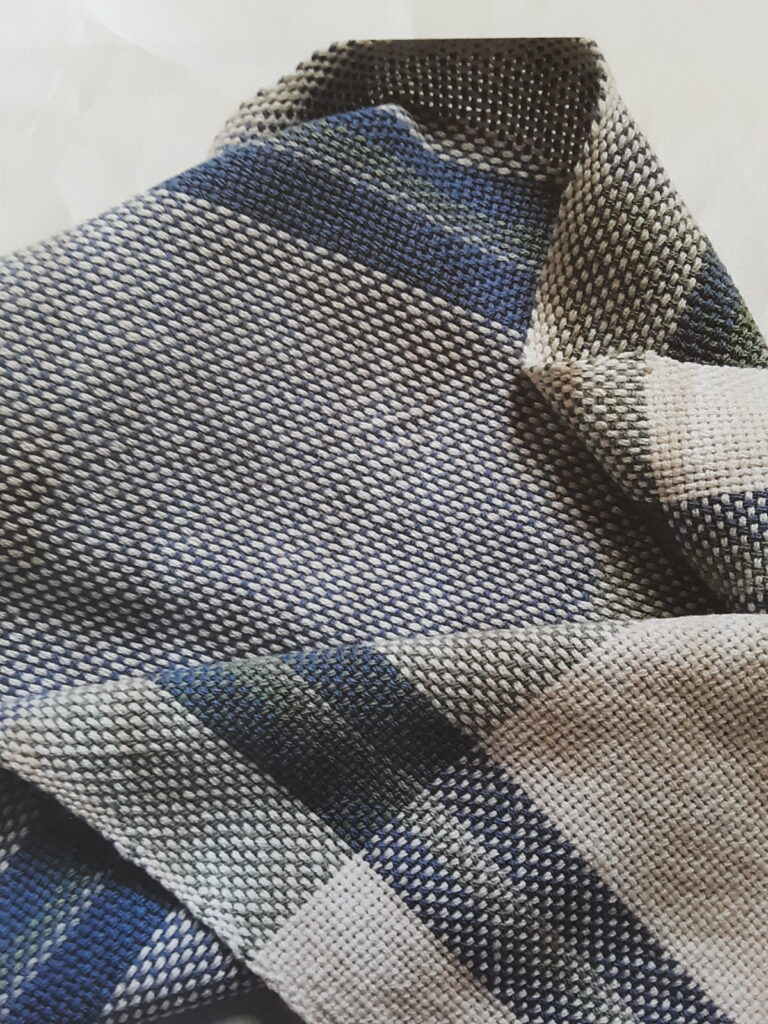 Direct Warp a Rigid Heddle Loom
This is a 2 period class Friday afternoon and Saturday morning
with Kala Exworthy and Rebecca Thingvold
Material and Handout cost $15.00 (warp included)
Maximum students 6
Beginning or any skill level requirement
Loom requirements: 18″ weaving width (pattern can be adjusted if you have less) with a 10 dent reed
Whether you're a beginner or advanced weaver learn, or refresh, how to independently dress a Rigid Heddle loom using the Direct Warp method. In this class, you will learn how to determine material amounts and direct warp a RH loom to weave a table center cloth. Tips and techniques for great selvedges and finishing techniques discussed. Bring your own loom or instructors have looms available for your use throughout the weekend; please indicate at registration if you are bringing a loom or need to use one.
Beading on a Loom ONLY 1 SEAT LEFT!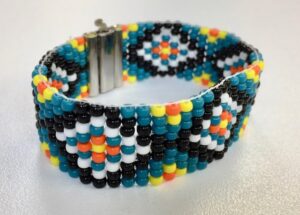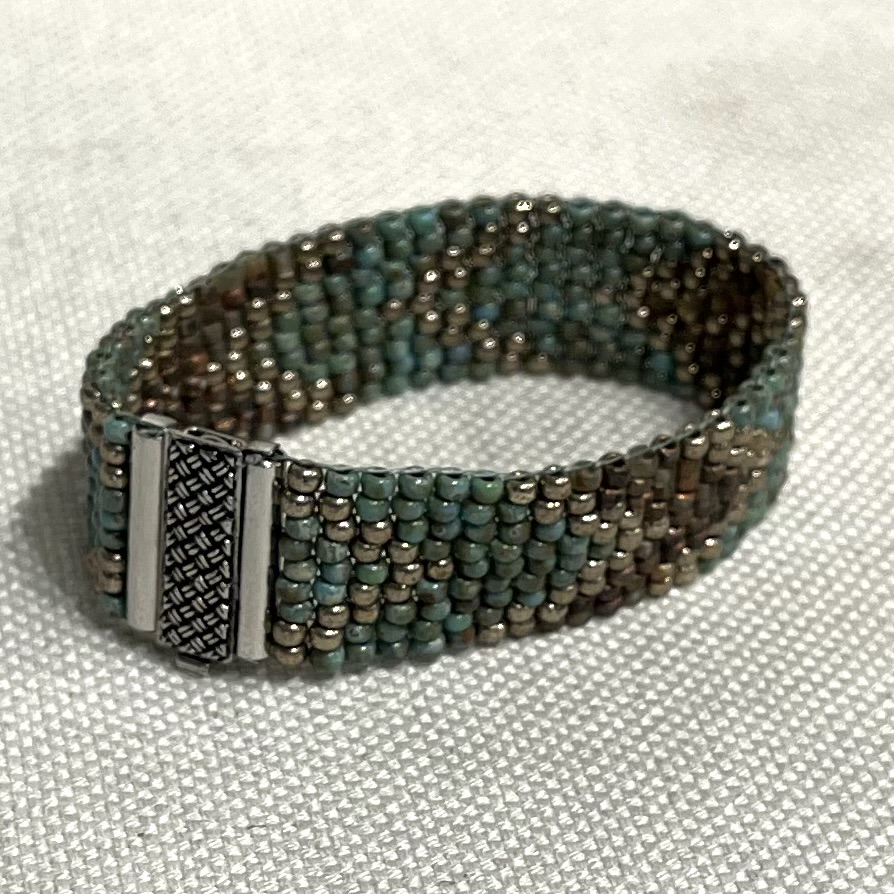 with Deb Kerr
Maximum # students: 10
Materials fee to be paid by student to teacher: $20
Participants will need a project kit and we will provide tools and thread
Beginner Level
Use the Jewel Loom to weave a simple beaded bracelet finished with a sliding clasp. Create a native style bracelet or a more contemporary chevron pattern. We'll have a few different color options.
Triangle Loom Weaving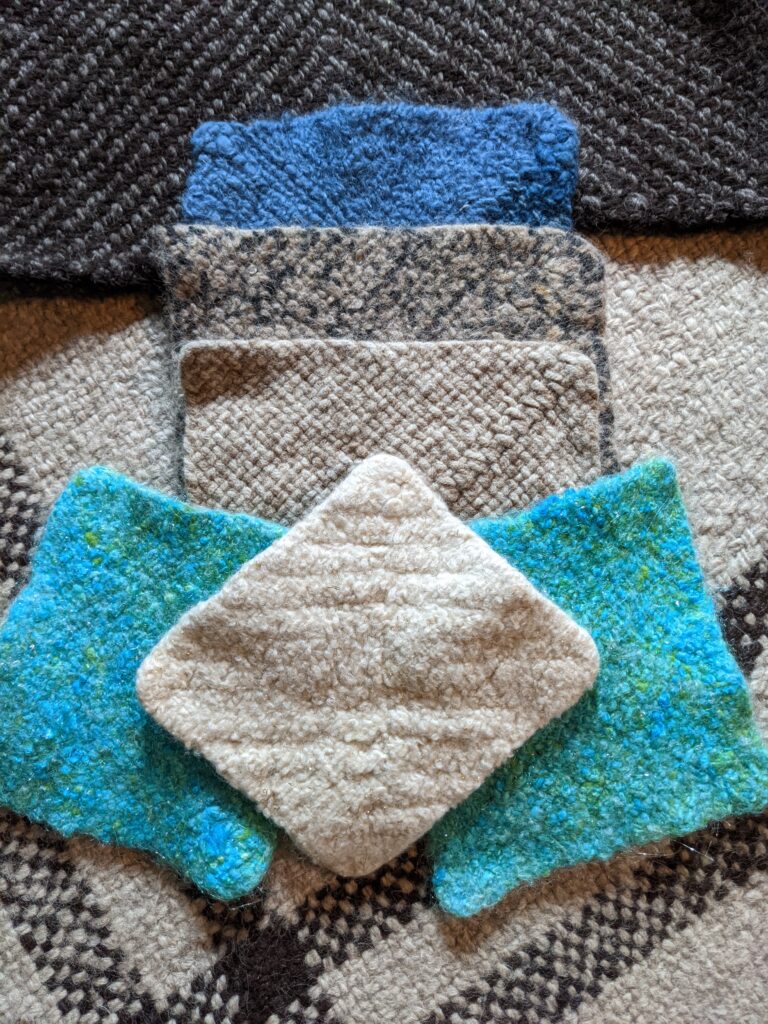 with Barb Lyndgaard
Beginning Level
8-12 Students (Instructor has 8 small triangle looms to use; indicate in registration if you are bringing your own or need to use a loom
Students can bring their own stash of bulky yarns (or anything really); instructor will have bulky yarns available for $8.00 skein
No weaving experience is necessary for this class! We will weave two triangles and then weave them together to make a square that will make a very nice hot pad or a coaster for a fine piece of pottery. I will also bring my 6′ triangle looms to demonstrate on and show you projects from them.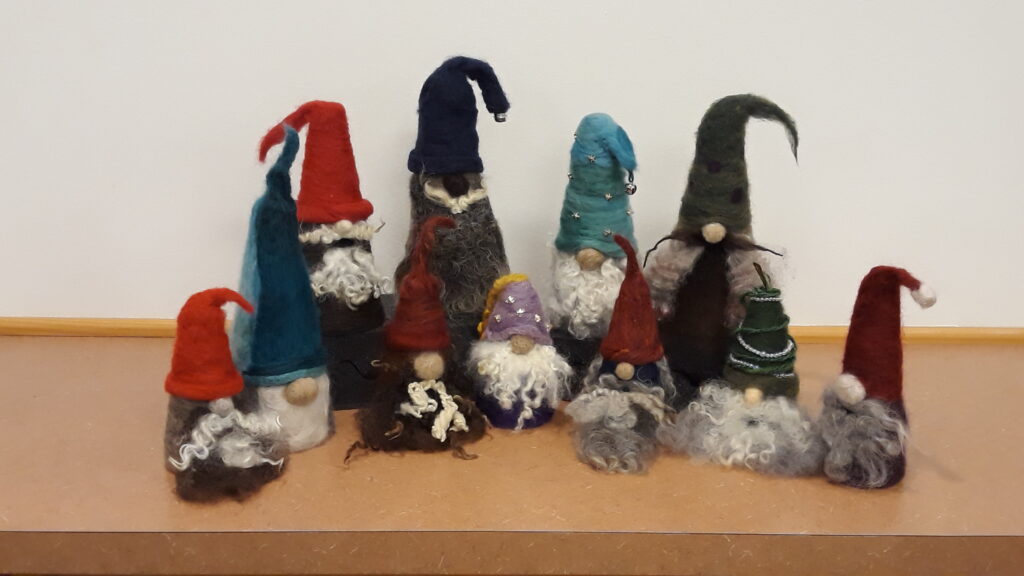 Needle Felted Gnomes THIS CLASS IS FULL!!
This class is back because you asked for it!
with Josie Wicker and Sue Fruth
No experience necessary
Maximum students 8
Material fee $5
Come and try your hand at needle felting. We will be using a barbed needle to "felt" wool roving onto a styro-foam cone shape. The end result will be a unique and popular gnome with your choice of extra decorations to personalize it. This class is for beginners to explore a new and creative way to have fun with wool. If there is time, we will also introduce needle felting using cookie cutters, an easy and inspiring way to decorate in a short amount of time. All supplies will be provided by the instructors. This includes hand outs, wool roving, needles, a foam cone shape and foam working surface, along with miscellaneous items for decorating the gnomes.
Start with a Spindle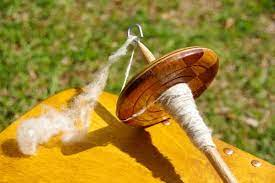 with Neal Goman
Maximum # students: 10
Materials fee: $10
Equipment needed: None, spindles will be provided. You can bring your own if you have one
Beginner Level
A beginning class – spinning on a drop spindle. Learn the skills needed to use a drop spindle to spin yarn like a nomad!
Saturday Morning
| | |
| --- | --- |
| Direct Warp a Rigid Heddle Loom (Part 2) | |
| Weave a Market Basket (Part 1) | |
| A Little More on a Spindle | |
| Knit a Brioche Cowl | |
| Indigo Dyeing | |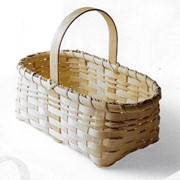 Weave a Market Basket
THIS CLASS IS FULL!
This is a 2 period class Saturday morning and afternoon
With Eve Sumsky
Materials = $28
Basket is: 8″ W X 12″ L X 6″ H (w/o handle)
Max # Students: 10
Traditional market baskets were created for carrying things. Weave an 8″ X 12″ market basket and you will be ready for the farmer's market!
This is a beginning level basket class, teaching basic basket weaving techniques of laying out a base, plaiting, and a lashed rim. Basket will be woven with rattan reed and a wooden handle. Some color/texture options will be available for the sides.
Students should bring these items to class: old towel, tape measure, pencil, heavy scissors, small bucket or dish pan for water, spray bottle, clothes pins or small clamps, awl or small flat screwdriver. Some tools will be available to use.
A Little More on a Spindle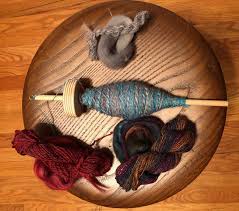 with Neal Goman
Maximum # students: 10
Materials fee to be paid by student to teacher: $10
Equipment needed to participate: Drop Spindle
Level of expertise: Beginner
A continuation of "Starting with a Spindle". We'll do more spinning, add some color, and learn to ply using the Peruvian method. If you already spin with a drop spindle, learn some new techniques and take it to the next level!
Beginning Brioche Cowl THIS CLASS IS FULL!
with Deb Kerr
Materials fee: $7 for pattern
Maximum # students: 8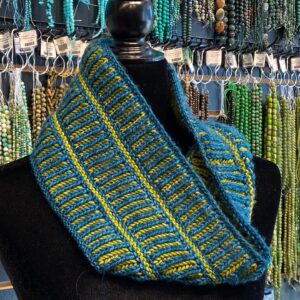 Brioche knitting creates a lovely, squishy, rib-like, reversible fabric. The Brioche Starter Cowl is a great introduction to 2-color brioche with sections of brioche rib separated by resting areas of garter stitch.
Students should bring to class; 2 contrasting colors of worsted weight yarn, 125 yards each. US8 (5mm), 24″ circular needle.
Level of expertise for student: advanced beginner or beyond. Students should know how to cast on, bind off, knit and purl.
Dyeing with Indigo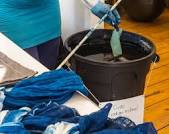 with Virgina Parent
Number of Students: 14
Materials Fee: $1.00 for shared indigo supplies
We will prepare a traditional indigo vat and naturally dye a woolen accessory that you bring. Students should bring: Disposable gloves; Woolen accessory of approximately 2 oz. to dye – examples: scarf, cowel, mitts , table matt, coaster, skein of yarn tied with figure 8 tie.
Saturday Afternoon
| | |
| --- | --- |
| Weave a Market Basket (Part 2) | |
| Spinning Color, Texture and Sparkle! | |
| Process of Designing with Color | |
| Beginning Knitting | |
| | |
Let's Mix-It-Up: Spinning Fiber Blends
with Color, Texture & Sparkle
with Brenda Dunse
Material and supply: $25.00
This class is for a spinner understands the basics, is able to spin well enough to make a usable yarn for a project.
Max # Students: 20
Don't let the Batt intimidate you at the wheel! Allured by fun, funky art
batts and gorgeous hand-dyed roving with luscious fiber blends specked with nibs and shimmering with strands of glitter… transform this eye candy into a useable yarn you'll enjoy using to create your projects.
Students should bring a spinning wheel in good working condition, three empty bobbins. For plying and finishing your yarn, I recommend bringing a lazy kate, niddynoddy, and ball winder. Optional, any tools you'd like for sampling. (weaveit, knitting needles, crochet hooks)
You Know Your Colors-Now What? Designing with Color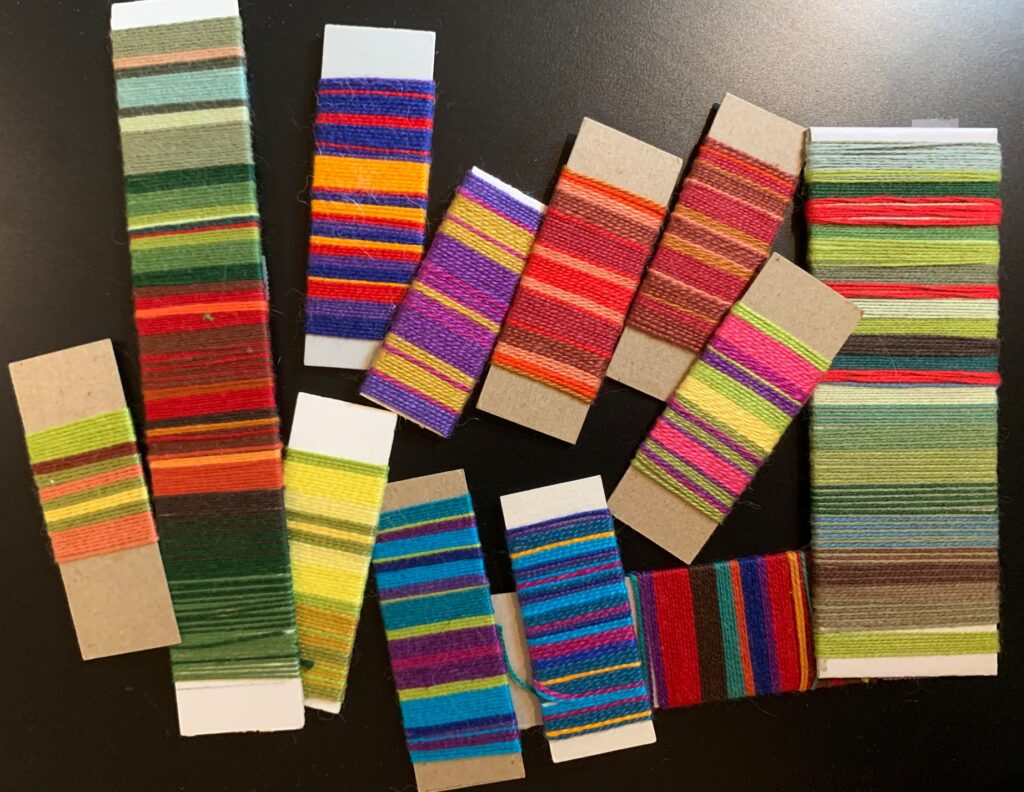 with Cathie Mayr
Materials Fee $8.00 (instructor provides all materials)
Beginner through Advanced
Maximum Students 12
Take what you learned in StevenBe's dynamic keynote and apply it to your next fiber project. We'll start with your colors, then work through several hands-on exercises designed to give you some tools, and a repeatable process for designing with color. (Pssst … turns out it's not rocket science!) You'll leave with new tools for working with color in fiber, and several yarn wraps for your next project.
Students please bring an inspiration piece you love (magazine, photo, nature element). Instructor will also have some you can work with. Instructor also brings all supplies for yarn wraps, color wheels, and a handout.
Beginning Knitting or Refresh Your Skills!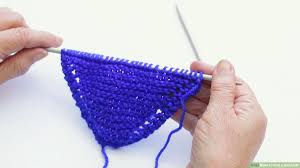 with Josie Wicker and Sue Fruth
Class cost: $2.00 (patterns and stitch instructions for future use)
Max # Students: 8
Ever wanted to learn to knit? Has it been too long since you picked up your needles and you need a refresher? Are you left handed and just haven't been able to find an instructor?
Join Josie & Sue for a relaxing knitting session. We have both right and left handed instructors. We will go over the basics and you will learn the skills to make a useful cloth to use for dishes or your body. We will start with a basic cloth but give you the skills and a pattern for a bit more fun cloth to knit.
Bring your own knitting needles (size 8 recommended, but close is good) and a skein of cotton yarn. We will have yarn available for $3 if you wish to purchase from us.